This page is the brochure for your selected program. You can view the provided information for this program on this page and click on the available buttons for additional options.
Berlin, Germany;
Brannenburg, Germany;
Nuremberg, Germany;
Vienna, Austria
(Outgoing Program)
Featured
Dates / Deadlines: - unrelated header
Dates / Deadlines:
There are currently no active application cycles for this program.
Fact Sheet: - unrelated header
Fact Sheet:
Program Description:
Program Description:
LSU in Germany 2018
This is a program for anyone interested in history! Study German and learn about the culture, history, film, and music of Germany for five weeks, right on location.
Develop unique and first-hand insights into German society, history, culture, film, and music

Study in English! You don't need to know or take German!

Experience one of the most beautiful and historically significant regions in Europe

Live in Bavaria, in the heart of Europe

Travel to other countries on the weekends

Save money; all meals, two day-long excursions each week, and transportation within Germany are all included!

Receive first-rate instruction on a personal level and with a low student-teacher ratio

Combine travel, immersion in a new culture, and course credit at an affordable price
Want to meet the students and faculty you'll be traveling with this summer? Join our Facebook page!
Dates & Costs
Start Date
End Date
Program Fee
LSU Tuition & Fees
(Undergraduate, 6 hours)
LSU Tuition & Fees
(Graduate, 6 hours)
June 22
July 28
$4,800
instate: $2,784
out of state: $6,888
instate: $3,131
out of state: $7,379
Program Fee Includes
Housing
All meals
Ground transportation
Fieldtrips and cultural events
Health insurance
Housing:
Bedding will be provided at all locations.

Berlin: you will live at the Pegasus Hostel. The rooms, which house 4-8 students, have private baths and showers. The hostel has wifi, laundry facilities, beverages and snacks, and someone at the reception desk 24 hours a day to answer questions.

Nuremberg: the Jugendhotel Nuernberg is a youth hostel where you will share your room with someone else from the program. Each room has its own bathroom. The hostel is in a quiet area on the edge of the city, with eacy access to the city center via subway and bus.

Vienna: the group will live at the IBIS Hotel Mariahilf. The hotel has wifi, a restaurant, and air conditioning. There is also a gift shop onsite.

Brannenburg: Your home in Brannenburg will be the Verdi Haus Brannenburg, a trade union training center. There will be two students per room, and the rooms have private baths and balconies overlooking the Alps.

Meals:
Three meals per day will be provided. Most of these meals will be at the hotels.

On days when the group is out on an excursion during meal times, Dr. Leder (the Program Director) will either arrange for sack lunches, or for the group to eat in a local restaurant.




Program Fee Does NOT Include
Tuition and Fees: You must pay tuition and fees for all courses you take through LSU. The tuition you pay is based on whether or not you are a resident of Louisiana. If you are an out of state student, you will pay out of state tuition and fees for all courses taken through LSU, including the courses on the LSU in Germany program.

Airfare: Each student arranges his/her own airfare to/from Germany. You should not purchase an airline ticket until you are told to do so by Dr. Leder, your Program Director.

Spending money: Although all meals are provided, you should plan for additional expenditures, including meals not covered by the program fee, snacks, souvenirs, and outings with friends. If you plan to travel on the free weekends, you will also need additional funds to cover travel expenses, meals, and housing when you're away from the group.
Packing Suggestions and Advice
Nail clippers

Flashlight

Raincoat and rain gear

More than one plug adapter

Good walking shoes. You will walk a lot!

Snacks for the airplane

A bottle for water (there are no water fountains)

Pack light! Leave enough space for things you buy in Germany

Make a list of things to pack and check each item off as you pack it. Pack in advance!

Read as much of the textbooks as you can before the program starts and make sure you complete all pre-departure assignments

Know who is picking you up from the airport (note: you can find pictures of all the faculty on the "Faculty" tab, above)
Courses
| Course | Description | Notes |
| --- | --- | --- |
| GERM 1101* | Introductory German I | 4 credit hour course; download the syllabus here: GERM 1101.pdf |
| GERM 2075* | German Civilization | Taught in English; cannot be taken with HIST 2075 |
| GERM 4046 | German Film | Taught in English; you must have completed 60 hours to take a 4000-level course |
| GERM 4915 | Independent Study | you must have completed 60 hours to take a 4000-level course |
| HIST 2075* | German Civilization | Cannot be taken with GERM 2075 |
| HIST 4130 | World War II | You must have completed 60 hours to take a 4000-level course |
| HIST 4901 | Independent Study | you must have completed 60 hours to take a 4000-level course |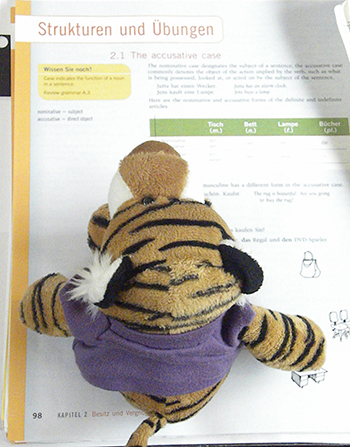 * can be taken for Gen Ed credit

All students must take two courses while participating in the program. If you take GERM 1101 as one of your two courses, you will pay tuition and fees for seven credit hours.

You must meet all prerequisites for the courses you take. You can find the prerequisites in the LSU Course Catalog.

The goal of the program is to teach students as much as possible about German history and culture. Language students will be able to learn and practice their German in real-life situations under expert supervision.

History and Political Science students will become acquainted with specific aspects of German life and culture on many fieldtrips and excursions that are specifically designed and integrated into course content.
Itinerary
| | |
| --- | --- |
| April 14 | 10:00am Parents' Orientation |
| May 2 | Fee bills available via myLSU |
| May 17 | Fee bills are due |
| June 22 | Depart the US |
| June 23 | Arrive at Berlin's Tegel Airport; meet Dr. Leder at the airport for transportation to the Pegasus Hostel |
| June 24 | Tour of Berlin |
| June 25 | Classes; German Historical Museum |
| June 26 | Classes; Nazi Capital of Germany tour |
| June 27 | Resistance to the Nazis Documentation Center; Old National Gallery; DDR Museum |
| June 28 | Classes; Russian-German Museum |
| June 29 | Classes; tour of Reichstag; Berlin Wall Documentation Center |
| June 30 | Depart Berlin; arrive in Nuremberg; film: Judgment at Nuremberg |
| July 1 | Free morning; Palace of Justice |
| July 2 | Classes |
| July 3 | Excursion to Rothenburg |
| July 4 | Classes; film: Sophie Scholl |
| July 5 | Excursion to Ansbach |
| July 6 | Free weekend |
| July 7 | Free weekend |
| July 8 | Free weekend |
| July 9 | Classes; film: In July |
| July 10 | Nazi Party Rally Grounds |
| July 11 | Classes; film: The Third Man |
| July 12 | Tour: Jewish Community in Nuremberg; film: "M" |
| July 13 | Depart Nuremberg; arrive in Vienna; tour of Vienna |
| July 14 | Military History Museum; Third Man Museum |
| July 15 | Austrian National Library |
| July 16 | depart Vienna; arrive in Brannenburg |
| July 17 | Excursion to Munich; Munich Documentation Center |
| July 18 | Classes; film: Miracle of Bern |
| July 19 | Classes; film: Look |
| July 20 | Hitler's Eagle's Nest |
| July 21 | Free weekend |
| July 22 | Free weekend |
| July 23 | Classes; Auer Brewery |
| July 24 | Dachau Concentration Camp |
| July 25 | Classes; film: The Baader-Meinhof-Complex |
| July 26 | Final Exam Day 1 |
| July 27 | Final Exam Day 2 |
| July 28 | Program ends; depart from Brannenburg for home, or travel Europe on your own |
| Aug 1 | Grades are available via myLSU |
Please note: this itinerary is tentative and subject to change
Faculty
Faculty Member

Department

Photo

Dr. Harald Leder
Program Director

Read an interview with Dr. Leder here

Academic Programs Abroad

Foreign Languages & Literatures
Eligibility & Withdrawal
In order to be eligible for the program, you must:
Have a cumulative GPA of 2.5 (undergraduate) or 3.0 (graduate students).

Be at least 18 years old by the first day of the program

Not be on disciplinary or scholastic probation

Have the prerequisites for the courses you take
NOTE: This program is open to students from all disciplines. Qualified applications from other institutions are also welcome.
Application Deadline
March 23, 2018
Although the application deadline is March 23, you are advised to register early in order to secure a spot in the program. The program will fill on a first come, first served basis from those who meet the eligibility requirements.

Deposit: A $500 deposit will be placed on your LSU billing statement at the time that you apply to the program. Students at other universities must send in a check or money order (made payable to "Louisiana State University") for the $500 deposit along with their applications.
The $500 deposit is nonrefundable after February 2, 2018.
Payment Deadlines: the $500 deposit is put on your billing statement and is due at the time that the charge appears. The rest of the program fee (minus the $500 deposit) and the tuition/fees for the courses will appear on your summer fee bill. Those fee bills are available via myLSU in early May and are due in mid-May (exact dates TBD by the Registrar).

If you withdraw from the program: After February 2, you will be responsible for making payments on your study abroad program, even if you do not go on the program. The amount that you will owe is based on the date on which you withdraw. The withdrawal schedule is:
| Date | Withdrawal Costs |
| --- | --- |
| February 2, 2018 | $500 deposit is non-refundable; student is obligated to pay for any non-refundable reservations the program has already paid, or is already contractually obligated to pay, on the student's behalf |

Parents: Have questions about the study abroad process? Want to ask questions? We have a Facebook group just for parents of students going on our summer programs! Join us here.