This page is the brochure for your selected program. You can view the provided information for this program on this page and click on the available buttons for additional options.
Juneau, AK, United States;
(Outgoing Program)
Featured
Dates / Deadlines: - unrelated header
Dates / Deadlines:
There are currently no active application cycles for this program.
Fact Sheet: - unrelated header
Fact Sheet:
Program Description:
Program Description:
Marine Biology in Alaska 2018

Alaska is the last frontier of North America and has as much shoreline as the continental United States. Alaska also has the largest fisheries catch and most value for their catch of the 50 states.

This program is very affordable and safe and has been an LSU short-term program staple since 2008.

You will have an opportunity to view the Mendenhall glacier, and plant succession from it, and visit, as well as hike, kayak, fish, and zipline during your leisure time.

Expert scientists from the University of Alaska's School of Fisheries and the National Marine Fisheries Service Laboratory at Lena Point will give presentations.

This is a unique opportunity to study the ecosystem of the North Pacific Ocean. You will study the Pacific salmon as well as the long-term impact of the Exxon Valdez oil spill on the Prince William Sound ecosystem.
This is your chance to experience a part of the US that's like no other!
There is a Marine Biology Travel Fund, for more information please see the attached document. Marine Biology Travel Fund
Dates & Costs
Start Date
End Date
Program Fee
LSU Tuition & Fees
(undergraduate, 7 hours)
July 13
Aug 4
$4,200
instate: $2,623
out of state: $6,728
There is a Marine Biology Travel Fund, for more information please see the attached document. Marine Biology Travel Fund
Program Fee Includes
Housing in the Benfield Hall dormitory (University of Alaska Southeast)
Most meals
Ground transportation in Alaska
Ferry from Bellingham, WA to Juneau, AK
Fieldtrips and cultural events
Meals: Students receive three meals/day on Monday-Friday, and breakfast and lunch on Saturday. Students are responsible for providing their own dinner on Saturday and their own meals on Sundays. This schedule was developed based on requests from past participants, who strongly felt that they would prefer to explore on the weekends without having to come back to campus to eat.
Program Fee Does NOT Include
Tuition and Fees: You must pay tuition and fees for all courses you take through LSU. The tuition you pay is based on whether or not you are a resident of Louisiana. If you are an out of state student, you will pay out of state tuition and fees for all courses taken through LSU.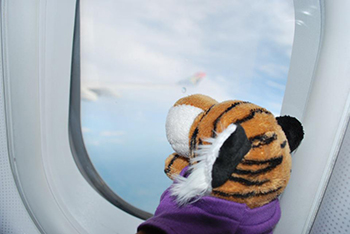 Airfare: Each student arranges his/her own roundtrip airfare. Dr. Stickle, your Program Director, will let you know when you should purchase airfare. Do not purchase a ticket until you are told to do so.

You should plan to fly roundtrip to/from Seattle, Washington. The group will take a ferry from Bellingham to Juneau, AK to start the program. This ferry is covered in the cost of the program.

At the end of the program, you will also need a one-way flight from Juneau, AK to Seattle, WA.


Spending money: Although most meals are provided, you will needs funds to pay for meals not covered by the program, snacks, souvenirs, and outings with friends. The estimated spending money amount students will need is $950.
Courses
All students on the Marine Biology in Alaska program take BIOL 4262 and BIOL 4263. You should then pick one additional course (either BIOL 3999 or BIOL 4177).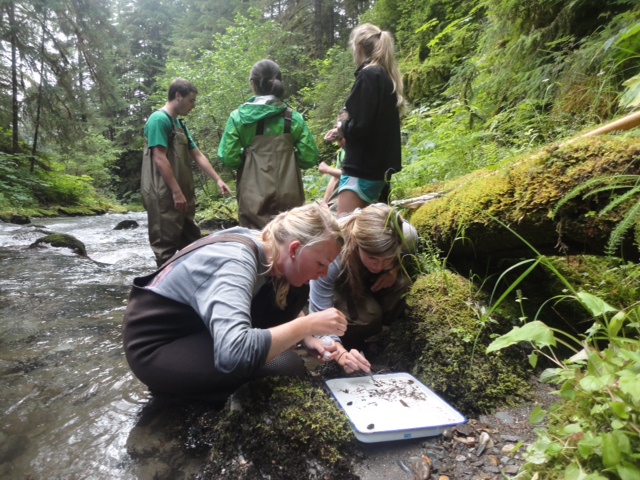 BIOL 3999 (Undergraduate Research) -
Research projects will be conducted by teams of students and written up in scientific paper format as well as in a poster. Each group of students will consist of a maximum of six students. The research topics will relate to topics covered in lectures in Marine Communities and the Marine Communities laboratory. Students will know the research group to which they belong prior to the program. Enrollment it the projects will be on a first come first served basis. Contact Bill Stickle: zostic@lsu.edu) to make your selection.
Research project options:
Size and abundance gradients of two southeastern Alaskan rocky intertidal limpet species; Tectura persona and Tectura scutum
Intertidal zonation of seaweed and lichen species in southeastern Alaska with a focus on epiphytic invertebrates
BIOL 4177 (Neurobiology) -
this course will incorporate all of the material that is covered in the course when it's taught on the LSU campus, but will also include more information on the specifics of sensory systems possessed by fishes. The class will study the basic properties of neurons that allow
information to be processed. This is a major course for students who are interested in entering medical, dental, and allied health programs.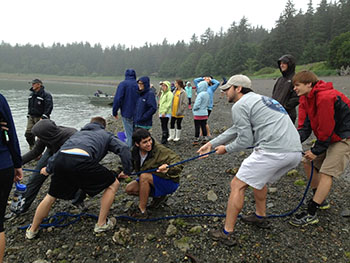 BIOL 4262/4263 (Marine Communities and Marine Communities Lab) -
Marine biology and ecology of benthic, planktonic, nektonic, estuarine, coral, and deep-sea communities, with a focus on the comparison between marine communities in Louisiana and Alaska. Material incorporated into the course that's specific to Alaska will include the extensive rocky intertidal zone, the largest salt marsh on the west coast of North America, mud flats and sandy beaches, king and Dungeness crabs, whales, sea lions, halibut, and the five species of Pacific Salmon. Topics of special interest will be the ecosystem approach to managing the most valuable fishery in the world and on the recovery of the Prince William Sound system from the Exxon Valdez oil spill. Syllabus:
BIOL 4263
Click here to access possible research topics
Biology 4262 Research Paper Topics
. You should email Dr. Stickle (zostic@lsu.edu) your choice, and he will email you back confirmation. Here is a sample Research Project outline
Research topics will be given on a first come, first served basis, so you'll want to review the list early and choose your topic!
Two additional files are designed to assist you with preparing the abstract
Biology Research Project Outline
and formatting your Literature
Citation Format
.
Course
Description
Prerequisite(s)
BIOL 3999
Undergraduate Research
Permission of the instructor
BIOL 4177
Neurobiology

BIOL 3090 or 4160

CHEM 2262 or 2462

BIOL 4262
Marine Communities
BIOL 2153
BIOL 4263
Marine Communities Lab (1 credit hour)
Click here for the syllabus Biol. 4263.pdf
BIOL 2153

You must meet all prerequisites for the courses you take in Alaska.
Please note:
because this program ends on August 4, which is after the deadline for summer semester grades, all students on this program will initially receive Incomplete ("I") grades. Those I grades will then be changed to the permanent letter grades by the end of September, 2018.
If you are graduating in summer 2018
, you
cannot
participate in this program because the courses on this program will not be completed in time for graduation.
Itinerary
Please note:
because this program ends after the deadline for summer grades, all students will initially receive Incomplete ("I") grades; those Incompletes will be changed to letter grades by the end of September, 2018.
| | |
| --- | --- |
| July 13 | Amtrak train from Seattle to Bellingham; ferry from Bellingham to Alaska |
| July 14 | |
| July 15 | |
| July 16 | |
| July 17 | |
| July 18 | |
| July 19 | |
| July 20 | |
| July 21 | |
| July 22 | |
| July 23 | |
| July 24 | |
| July 25 | |
| July 26 | |
| July 27 | |
| July 28 | |
| July 29 | |
| July 30 | |
| July 31 | |
| Aug 1 | |
| Aug 2 | I (incomplete) grades will be reported for all students on this date |
| Aug 3 | |
| Aug 4 | Program Ends |
Please note: this itinerary is tentative and subject to change
Eligibility & Withdrawal

In order to be eligible for the program, you must:
Have a cumulative GPA of 3.0 (undergraduate) or 3.0 (graduate students)
Completion of BIOL 2153
Junior or Senior in a Senior College
Be at least 18 years old by the first day of the program
Not be on disciplinary or scholastic probation
Have the prerequisites for the courses you take
NOTE: This program is open to students from all disciplines. Qualified applications from other institutions are also welcome.
Application Deadline
March 23, 2018
Although the application deadline is March 23, you are advised to register early in order to secure a spot in the program. The program will fill on a first come, first served basis from those who meet the eligibility requirements.

Deposit: A $500 deposit will be placed on your LSU billing statement at the time that you apply to the program. Students at other universities must send in a check or money order (made payable to "Louisiana State University") for the $500 deposit along with their applications.
The $500 deposit is nonrefundable after February 2, 2018.
Payment Deadlines: the $500 deposit is put on your billing statement and is due at the time that the charge appears. The rest of the program fee (minus the $500 deposit) and the tuition/fees for the courses will appear on your summer fee bill. Those fee bills are available via myLSU in early May and are due in mid-May (exact dates TBD by the Registrar).

If you withdraw from the program: After February 2, you will be responsible for making payments on your study abroad program, even if you do not go on the program. The amount that you will owe is based on the date on which you withdraw. The withdrawal schedule is:
| Date | Withdrawal Costs |
| --- | --- |
| Withdrawal after February 2, 2018 | $500 deposit is non-refundable; student is obligated to pay for any non-refundable reservations the program has already paid, or is already contractually obligated to pay, on the student's behalf |
Parents:
Have questions about the study abroad process? Want to ask questions? We have a Facebook group just for parents of students who are going on our summer programs! Join us
here
.