This page is the brochure for your selected program. You can view the provided information for this program on this page and click on the available buttons for additional options.
LSU in Haiti (spring intersession)
Jacmel, Haiti
(Outgoing Program)
Featured
Dates / Deadlines: - unrelated header
Dates / Deadlines:
There are currently no active application cycles for this program.
Fact Sheet: - unrelated header
Fact Sheet:
Program Description:
Program Description:
LSU in Haiti 2018 |

This is your chance!

LSU in Haiti will give students an opportunity to learn about the historical, social, and cultural contexts of Haiti and its influence on the antebellum south and, specifically, south Louisiana and New Orleans. Included in this experience will be interactive sessions in which LSU students will get to interact and learn with Haitian students.

This program is also a field school, giving students practical experience on how to conduct ethnographic fieldwork in an international site. You will have a community engagement immersion experience that will strengthen your global understanding of how culture can strengthen and help sustan a community, especially post disaster. All of the students will work as a group on a community-based project, which will be decided on in collaboration with personnel from a non-profit organization experienced in the area.

You won't find another course like this!
Dates & Costs
Start Date
End Date
Program Fee
LSU Tuition & Fees
(Undergraduate, 3 hours)
LSU Tuition & Fees
(Graduate, 3 hours)
May 13
May 24
$1,500
instate: $1,207
out of state: $2,006
instate: $1,457
out of state: $2,258
Program Fee Includes
Housing in double rooms at the Inoubliable Hotel
2 meals per day
Ground transportation in Haiti
Fieldtrips and cultural events
Health insurance
Housing:
the Inoubliable Hotel is located near the University of the South East, where the program will be based. Students will live in double rooms. All rooms have ceiling fans.
Meals:
students will have breakfast everyday at the hotel and one other meal (lunch or dinner, depending on the schedule)
Program Fee Does NOT Include
Airfare to/from Port au Prince, Haiti
Spending money
Tuition and Fees: You must pay tuition and fees for all courses you take through LSU. The tuition you pay is based on whether or not you are a resident of Louisiana. If you are an out of state student, you will pay out of state tuition and fees for all courses taken through LSU.

Airfare: Each student arranges his/her own roundtrip airfare between the US and Port au Prince, Haiti. Your Program Director, Dr. Joyce Jackson, will let you know when you should purchase airfare. Do not purchase a ticket until you are told to do so. Once you are told to purchase a ticket, you should plan to fly in/out of Pout au Prince, Haiti.

Spending money: Although most meals are provided, you should plan for additional expenditures, including meals not covered by the program fee, snacks, souvenirs, and outings with friends.
Courses
| Course | Description | Prerequisite(s) |
| --- | --- | --- |
| AAAS 3902 | Haiti: Cultural Sustainability | |
| ANTH 4998 | Haiti: Cultural Sustainability | 60 credit hours completed |
| FREN 3090 | Frocophone Texts and Contexts | FREN 2102 recommend, but not required |
| CPLT 7130 | The Caribbean Intellectual & Haitian Diaspora | eligibility for graduate-level courses, reading knowledge of French and Spanish |

Please note: you should choose one of the courses listed above.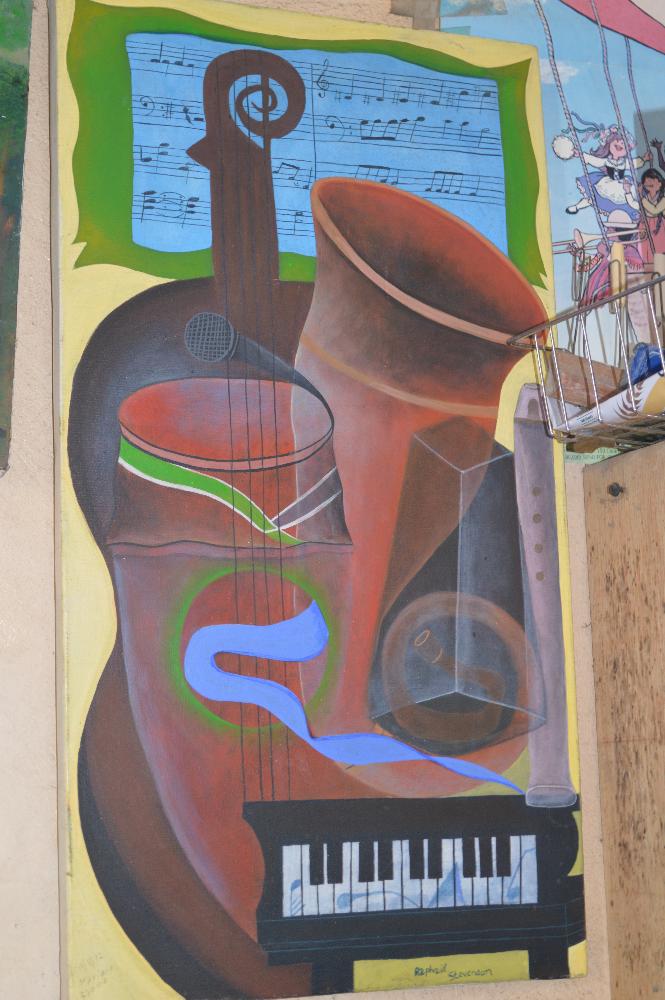 AAAS 3902 (Haiti: Cultural Sustainability) - Haitian immigrants became part of the landscape of Louisiana during the colonial period. Since Haitian refugees (black and white) represent the largest single migration into the Louisiana Territory during its colonization, their dual French and African legacies enabled the state to become the unique cultural center of the Gulf Coast.

This course examines the cultural results of the migrations and their implications for, and cultural influences on, Louisiana. Folk religion, language, music, dance, arts and crafts, foodways, architecture, and carnival celebrations are cultural components shared by Louisiana and Haiti, and this course will use an ethnographic approach to solving cultural sustainability problems post earthquake.

ANTH 4998 (Haiti: Cultural Sustainability) - Students will read and discuss the history and culture of Haiti and its influence on the antebellum south and, specifically, southern Louisiana and New Orleans. Haitian students will be included periodically for interactive sessions with LSU students, and the class will work on a community-based project which will be decided in collaboration with personnel from a local non-profit organization in Jacmel.

FREN 3090/CPLT 7130 (Topics in Francophone Culture/Topics in Comparative Literature) - Many of the most famous contemporary Haitian writers - René Depestre, Jean Métellus, Dany Laferrière, Joël Des Rosiers, and Edwidge Danticat - have gained their reputations outside of Haiti. They comprise a Haitian diaspora.

Students in this course will read Haitian writers who have immigrated to North America and Europe. The fictional works addressed are set in Haiti, and students will compare their observations of Haitian geography and culture with the literary representations of both.

LSU students will interact with students from Haiti's University of the South East and compare their experiences as readers of texts by writers who comprise the Haitian diaspora.
Itinerary
| | |
| --- | --- |
| May 13 | Depart the US; arrive in Port au Prince; travel to Jacmel |
| May 14 | Orientation to Jacmel and the University of the South East; walking tour of Jacmel's historical district |
| May 15 | |
| May 16 | |
| May 17 | |
| May 18 | |
| May 19 | Classes combine for the Community Engagement Project with Mackandal Organix in the mountains of Cayes Jacmel |
| May 20 | Afternoon dance workshops for all students; dance performance by FOSAJ |
| May 21 | Classes combine for field excursion to Basin Blue |
| May 22 | |
| May 23 | |
| May 24 | Depart Jacmel for Port au Prince airport; return to the U.S. |
Please note: this itinerary is tentative and may change due to fluctuations in exchange rate or a lower than anticipated program enrollment.
Eligibility & Withdrawal

In order to be eligible for the program, you must:
Have a cumulative GPA of 2.5 (undergraduate) or 3.0 (graduate students)
Sophomore standing at the start of the program
Be at least 18 years old by the first day of the program
Not be on disciplinary or scholastic probation
Have the prerequisites for the courses you take
NOTE: This program is open to students from all disciplines. Qualified applications from other institutions are also welcome.
Application Deadline
March 23, 2018
Although the application deadline is March 23, you are advised to register early in order to secure a spot in the program. The program will fill on a first come, first served basis from those who meet the eligibility requirements.

Deposit: A $500 deposit will be placed on your LSU billing statement at the time that you apply to the program. Students at other universities must send in a check or money order (made payable to "Louisiana State University") for the $500 deposit along with their applications.
The $500 deposit is nonrefundable after February 2, 2018.
Payment Deadlines: the $500 deposit is put on your billing statement and is due at the time that the charge appears. The rest of the program fee (minus the $500 deposit) and the tuition/fees for the courses will appear on your spring intersession fee bill. Those fee bills are available via myLSU on April 21 and are due on May 3.

If you withdraw from the program: After February 2, you will be responsible for making payments on your study abroad program, even if you do not go on the program. The amount that you will owe is based on the date on which you withdraw. The withdrawal schedule is:
| Date | Withdrawal Costs |
| --- | --- |
| Withdrawal after February 2, 2018 | $500 deposit is non-refundable; Additionally the student is obligated to pay for any non-refundable reservations the program has already paid, or is already contractually obligated to pay on behalf of the student. |
Parents:
Have questions about the study abroad process? Want to ask questions? We have a Facebook group just for parents of students going on our summer programs! Join us
here
.
Testimonial: - unrelated header
Testimonial:
Testimonial:
Pre-Departure Orientation Comments
Dr. Jackson was definitely accessible for one-on-one questions about the program and general concerns. We had several meetings prior to the trip which were helpful.
— Spring Intersession, 2015 Participant
Read what others have said about this program.